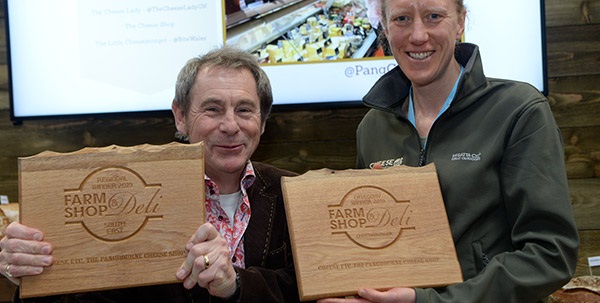 PRESS RELEASE
Double Award for Cheese Etc
South East Regional Winners and Cheesemonger of the Year
At the Farm Shop and Deli Awards
Cheese Etc, The Pangbourne Cheese Shop has scooped two wins at this year's Farm Shop and Deli Awards.
The Awards commend retailers' success in speciality food sectors and regions respectively. Awards were up for grabs across 11 different categories including specialist cheesemongers and Cheese Etc came top, not only winning their food category, but also were crowned regional champion across all sectors in the South East.
Cheese Etc was nominated for the award in September 2018, so it's been a long wait to hear the results. A judging panel of industry experts met up last November in London for a day of evaluation and deliberation and then secret visits and mystery shops followed over the next three months to finalise the shortlist and determine the overall winners.
Ali and Jen Grimstone-Jones, owners of Cheese Etc, were at the Awards Ceremony on Monday when the results were announced and Jen collected the awards from Nigel Barden, food journalist and broadcaster. The business was commended for its product knowledge, staff helpfulness and service with humour and a smile, as well as starting a free local delivery service and working with the local community.
Owner and Cheesemonger, Jen tells us "we are absolutely thrilled to be recognised with both of these prestigious awards. Winning Cheesemonger of the Year is such an accolade and we are numb with delight that Cheese Etc has then won South East Regional Champion across all food sectors too. It is really humbling to even have made the final shortlist of these hotly contested awards, as we know how much hard work and dedication each of the finalists will have given to their businesses, so to have scooped the double is just amazing.
We are passionate about our cheeses and try and fill our shop with a range of tasty delights. Customer service is paramount and is at the heart of our business. We try and brighten up everyone's day. Pangbourne is such a super location, with a range of specialist shops and the River Thames nearby that it offers something for everyone. We are so grateful for the support of all our customers, many of whom are local, but some travel quite a distance or use our delivery service to have cheese delivered to their door."
Note to Editors:
Ali and Jen Grimstone-Jones have owned Cheese Etc, The Pangbourne Cheese Shop for the past three and a half years. During this time they have won Cheese Counter of the Year at the World Cheese Awards and have twice been finalists in The Shop of the Year Awards.
Cheese Etc stocks around 130 cheeses, with many of these available to buy online. Local, national and continental cheeses from artisan producers are complemented by crackers, chutneys and other goods. A free flexi local delivery service is provided to Newbury, Thatcham and Reading areas with no minimum spend meaning that customers can choose a slither of their favourite cheese for their dinner or try something new for the weekend.